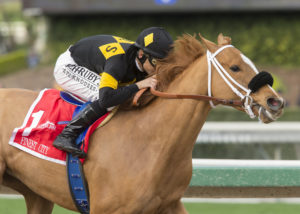 Finest City not only proved the best distaff sprinter of 2016, but acquitted herself around two turns on dirt and turf as well.
It illustrated the mare's versatility, though in the end, she demonstrated her keen sprinting ability by beating the best in the Breeders' Cup Filly & Mare Sprint (G1) to clinch the Eclipse Award as top female sprinter.
Two father-and-son combinations contributed to Finest City's championship. Wayne and Tyler Seltzer race her in the name of their Seltzer Thoroughbreds, while Eric and Ian Kruljac have collaborated on her training. Finest City was the first horse the 28-year-old Ian trained under his own name.
Eric Kruljac selected Finest City for the Seltzers during the seventh session of the 2013 Keeneland September yearling sale for $85,000. Henry R. "Hank" Nothhaft bred the daughter of City Zip  —Be Envied, by Lemon Drop Kid  , in Pennsylvania because Northhaft bought Be Envied to breed to Silver Train in that state.
Though the elder Kruljac trained Finest City for her initial outing, Ian was involved from the beginning. She gave Ian a victory the first time he ever saddled a horse in his name, at Del Mar Aug. 23, 2015.
"I've spent a lot of time, especially at Del Mar, in the mornings with Ian," Tyler Seltzer said. "I trust him. I know him. I like him. I feel like he's cut from the same cloth as his dad."
Finest City began her championship season with a close second in the seven-furlong Santa Monica Stakes (G2). One of her most outstanding efforts of the season came mid-year at Los Alamitos Race Course. She overhauled the leaders to win the 6 1/2-furlong Great Lady M. Stakes (G2) in a track-record 1:14.48.
"I really didn't think we had seen her best yet," Ian said afterward.
Unbeknownst to the team, however, Finest City was just getting started. In the Vanity Mile Stakes (G1) she finished third to two champions, Beholder and Stellar Wind. At Del Mar on the turf, she ran fourth in the 1 1/16-mile Yellow Ribbon Handicap (G2T) and then missed by just a head behind Avenge in the 1 1/8-mile John C. Mabee Stakes (G2T).
"The race against Avenge was a bang-up race," Tyler Seltzer said.
Sprinting was Finest City's forte, however, so Ian prepared her for the seven-furlong Filly & Mare Sprint. The large field attracted the 2015 winner, Wavell Avenue, as well as Haveyougoneaway and Paulassilverlining, who ended up as the other two finalists in this division.
Finest City beat them all, thwarting the late surge of Wavell Avenue, to win by three-quarters of a length.
"She dug down and started to pull away more," Ian said, "so I know she's got a lot of heart and is definitely a fighter."
Source: Tracy Gantz, Blood Horse