Welcome to the Pennsylvania Breeding Program and the PHBA.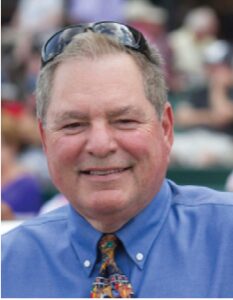 Pennsylvania's Breeding Fund Program distributes more money, on a per foal basis, than nearly any other state-bred program. Established in 1974, the Pennsylvania Breeding Fund has grown from a disbursement of $65,000 in its initial year of operation to almost $30 million in 2022.
We all know that thoroughbred breeding and racing is a high-risk enterprise, but for breeders of PA-Breds, owners of stallions standing in this state, and owners of PA-Breds racing at PARX, Penn National and Presque Isle Downs, the added rewards can be one factor that makes for a winning stable.
The Pennsylvania Breeding Fund is financed by a percentage of the state's total Thoroughbred slot revenue and annual commission revenue. It provides for individual Award payments, overnight races for PA-Breds, purse bonus supplements ("Owner Bonus"), and PA-Bred stakes races.
In 2022, the Breeding Program paid $13 million in Breeder and Stallion Awards, $5.5 million in "Owner Bonuses" at Parx, Penn National, and Presque Isle Downs, $8 million in PA-Bred restricted races, and $3.4 million in PA-Bred Stakes.
In addition to money from the Breeding Fund, the Pennsylvania Thoroughbred Horsemen's Association (PTHA) and the Pennsylvania Horsemen's Benevolent and Protective Association (HBPA) purse accounts contribute towards annual disbursements. The Horsemen recognize the value of PA-Breds and contribute to the "Owner Bonuses" and restricted race purses. Both the PHBA and Pennsylvania's breeders greatly appreciate the support from the Pennsylvania's Horsemen's organizations.
While benefiting owners and breeders with its incentives, the Fund also supports live racing at the three thoroughbred tracks in Pennsylvania and the state's agricultural economy.
Please contact the PHBA office (under Contact Us) with any questions about the program and remember, when it comes to racing and breeding – Pennsylvania Pays!
Sincerely,
Brian Sanfratello
Executive Secretary
Pennsylvania Horse Breeders Association