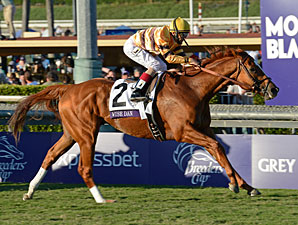 Morton Fink's homebred Wise Dan swept three categories–Horse of the Year, older male, and male turf horse–at the Jan. 19 Eclipse Awards ceremony in Hallandale Beach, Fla., becoming the first horse to do so since John Henry in 1981.
The versatile chestnut gelding snapped two track records in 2012 while concluding his season with a brilliant turn of foot in the Breeders' Cup Mile (gr. IT), joining just three other Horse of the Year champions since 1971—when the modern Eclipse Award voting system was put into place—whose campaigns were executed primarily or solely on turf.
While John Henry, All Along in 1983, and Kotashaan in 1993 specialized in races contested at 1 1/4 miles and longer, Wise Dan became the first Horse of the Year whose significant victories were accomplished on the grass at a mile.
Historically, he joins champions such as Secretariat, who was named Horse of the Year, champion 3-year-old, and male turf horse in 1973; Dr. Fager, the 1968 Horse of the Year, champion older male, and champion sprint horse; Round Table, who collected Horse of the Year honors, a champion male turf horse award, and male handicap honors in 1958; and Fort Marcy, Horse of the Year, champion male turf horse, and champion older male in 1970.
A three-race win streak in premiere company going a mile on turf solidified Wise Dan's legend during the second half of his 5-year-old season. Daylighting by 3 1⁄4 lengths in the Ricoh Woodbine Mile (CAN-I), he turned around three weeks later to power home by 2 1⁄4 in the Shadwell Turf Mile (gr. IT) over Keeneland's turf course. Then it was on to the Breeders' Cup at Santa Anita Park.
Not only did the speedy runner demolish the competition with a 1 1⁄2-length score under John Velazquez—leaving in his wake 2011 Kentucky Derby Presented by Yum! Brands (gr. I) winner Animal Kingdom, West Coast speedster Obviously, and European standouts Excelebration and Moonlight Cloud—he smashed a 15-year-old track record, getting the distance in 1:31.78 while carrying 126 pounds. The 1:31.89 mark he beat was set by Atticus, who carried nine pounds less in 1997.
"I thought he was going to run good, but I had no idea he was going to break a 15-year-old track record," trainer Charlie Lopresti recalled. "Breaking two track records in one year? You haven't seen a horse like that since John Henry and Forego. When you go back to the last really good gelding, you talk about those horses; that's for sure."
Wise Dan, now a 6-year-old son of Pennsylvania based sire, Wiseman's Ferry  , is the first gelding since John Henry in 1981 and 1984 to be named Horse of the Year.
At the beginning of the season "it never even crossed my mind," Lopresti said of Wise Dan's likelihood of receiving Horse of the Year honors. But as time continued, "he kept getting better and better," the trainer recalled.
Five victories in six starts over six different surfaces in 2012 built a convincing case for year-end honors as Wise Dan traveled to win in Kentucky, New York, Canada, and California for earnings of $2,622,037. The way he accomplished those victories sealed the deal.
Wise Dan had already shown he was good, taking the Fayette Stakes (gr. II) on Polytrack at Keeneland and winning the Clark Handicap (gr. I) on dirt at Churchill Downs to close out 2011. But he took things to a new level with his first start of the New Year, stopping the clock in an eye-popping 1:46.63 with a record-setting 10 1⁄2-length romp in the 1 1⁄8-mile Ben Ali Stakes (gr. III), also on Keeneland Polytrack. Wise Dan earned a 117 Beyer Speed Figure for that effort, then the highest figure of the year and the biggest synthetic Beyer since the advent of the artificial surfaces.
Next up was the Stephen Foster Handicap (gr. I) on dirt at Churchill Downs, where he just missed by a head to Ron the Greek while giving weight and getting bothered down the lane. Then it was on toSaratoga Race Course and a return to turf, which resulted in his emphatic five-length victory in the Fourstardave (gr. IIT)–all that before three grade I victories sealed his status as the most accomplished runner in the nation.
The gelding's connections couldn't be more deserving of the good fortune brought by their brilliant runner. Fink, 83, saw great success and made significant contributions to the racing game for more than 40 years but dispersed his broodmare band as he aged. He kept the Wolf Power mare Lisa Danielle because she was named after his granddaughter; that mare produced Wise Dan, who was foaled in Kentucky on Feb. 20, 2007.
Lopresti, 55, quietly campaigned runners to victory after taking out his training license in 1993 and won his first graded stakes, the 2009 Northern Dancer Stakes (gr. III), with Wise Dan's half brotherSuccessful Dan. But the national spotlight had never shone upon him as it did in 2012, when his carefully planned campaign was carried out to near perfection by Wise Dan.
"It's like a dream come true for a little guy like me who started out with six horses," remarked Lopresti, who also runs his own Forest Lane Farm near Lexington with his wife, Amy. "Even five years ago I never would have thought I'd be in this position."
Wise Dan returned from a post-Breeders' Cup rest Jan. 6 and is gearing up for a 2013 debut in the April 12 Maker's 46 Mile (gr. IT) at Keeneland. He could start on various surfaces this year as Lopresti and Fink have discussed another dirt run. According to the trainer, it won't take much to bring this versatile gelding back to the races.
"Wise Dan is pretty easy to train–as a matter of fact, you just stay out of his way," he said.